British Newspaper Archive
A gift for history lovers
The British Newspaper Archive is a rather amazing project that will benefit everyone who wants to dig about into British history. It's even better if you want to totally immerse yourself and get lost in it.
The British Newspaper Archive is scanning pages of British newspapers and making them available online for the first time ever. It is constantly adding new pages to make them available online! And it's now hit over 50 million pages, all now available to search! And they keep adding pages so there's even more for you to immerse yourself in and get stuck into!
This week, for example, (5 August 2022), they added 422,110 brand new pages to explore!. These covered subjects from education to farming, and spiritualism to yachting. Not only that, but they spanned the world, going from Australia to Antigua to Britain! They also had 10 new titles, and they updated 54 of their existing titles! So there's LOTS for your loved one to explore and discover - time will pass very quickly when you get onto the British Newspaper Archive. You can learn all about women's higher education in 1890, and how a very famous women's suffrage campaigner stirred up a storm at Battersea Polytechnic in 1894. How times change!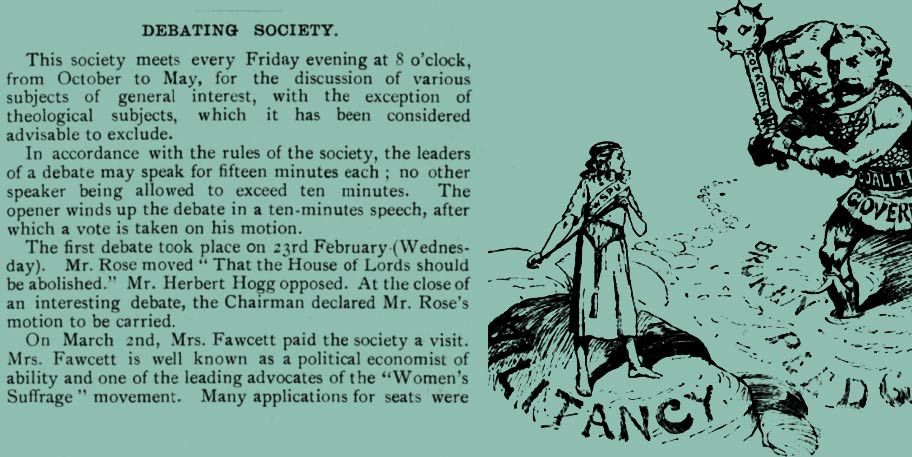 News of the Debating Society, which met every Friday at 8 o'clock from October to May
It discussed various subjects of general interest, although it was advisable to exclude theological subjects,
according to the newspaper's report!
Things like this give us an idea of what life was like at the time the paper was produced.
Visit the British Newspaper Archive's website here to subscribe
Immerse yourself in the past!
So there is an incredible amount for anyone interested in the past, and the fabric of society and history, to delve into. Newspapers are a great way to find out what the concerns of the day were, to see what retailers were trying to sell, what events were on and to gain a better insight into the lives of people at the time.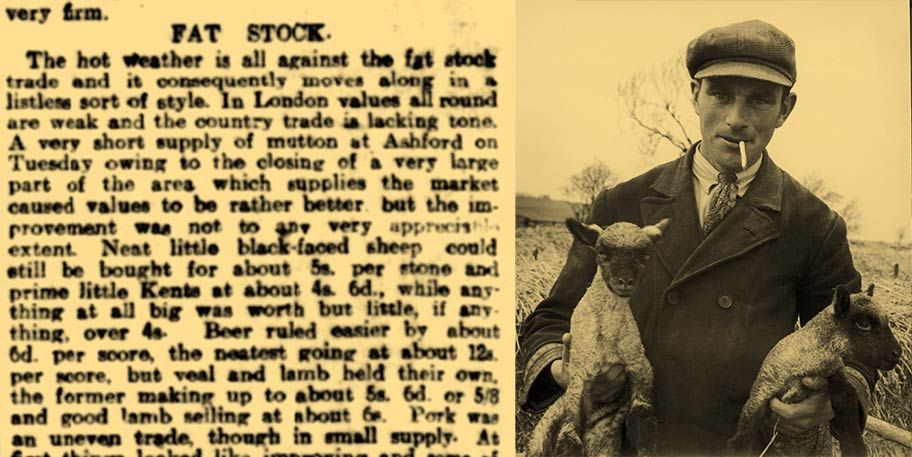 New pages added in the week of 21 July 2022 from the Kentish Express showed the impact of the drought conditions everyone was experiencing in 1911.
Click here to see the newspaper titles in the British Newspaper Archive.
There are now over 54 million pages listed - that's an incredible resource!
The great thing about it is that this it will save anyone who wants to do some research from having to head off to London and the British Library to plough through hard copies of newspapers! They can find what they are looking for using a few simple search terms and within seconds, all the results pop up ready for reading.
It's free to search on The British Newspaper Archive but you need to subscribe online to see the original newspaper pages. And you can buy a subscription as a gift, and give a loved one the chance to explore, to discover and to immerse themselves in history. There are over 10 million pages available online, which is an awful lot of history to discover online.


There are also articles to enjoy on the British Newspaper Archive Website in their Headlines from History blog
This week (28 July 2022), there was an article on how papers reported the landing of the man on the moon in 1969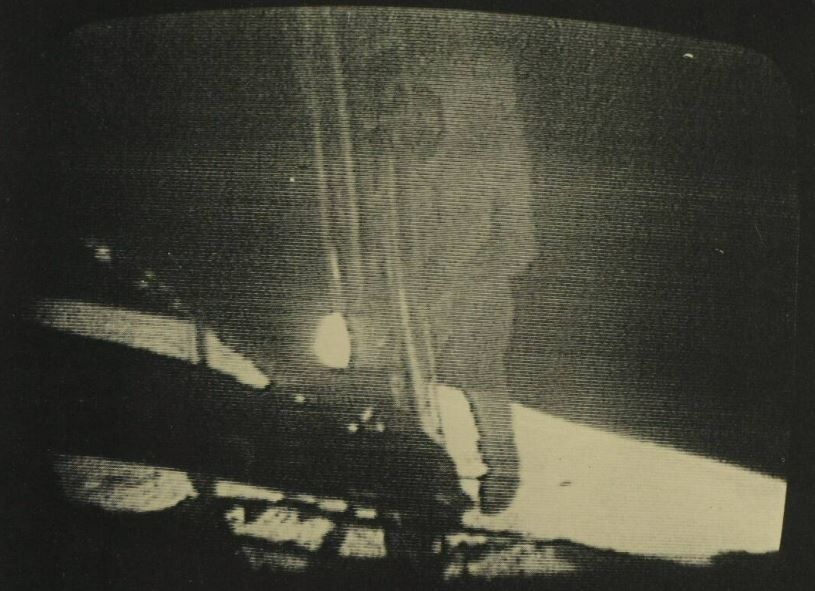 'Man Walks On The Moon' – 10 Front Pages From 21 July 1969
Not only that, but they have really helpful sections on their blog on how to make the most of the Archive, such as Hints and Tips and there's a very good search facility so that you can narrow down your search for articles and information.
Newspapers are a window into past times
The wonderful thing about newspapers is that they give a real flavour to times past – and a sense of what was important and what mattered in the fabric of society.
Go to historic local papers and you'll find out a lot of background about the local area – but also about news stories from around the country and further afield. So as well as details of who won prizes in the local shows, you would also get an idea of what was happening at the time and discover what was important for people to know – or what they wanted to hear about. And you can really get to the nitty-gritty of what local people were doing, and what they were concerned about, and what was going on around then.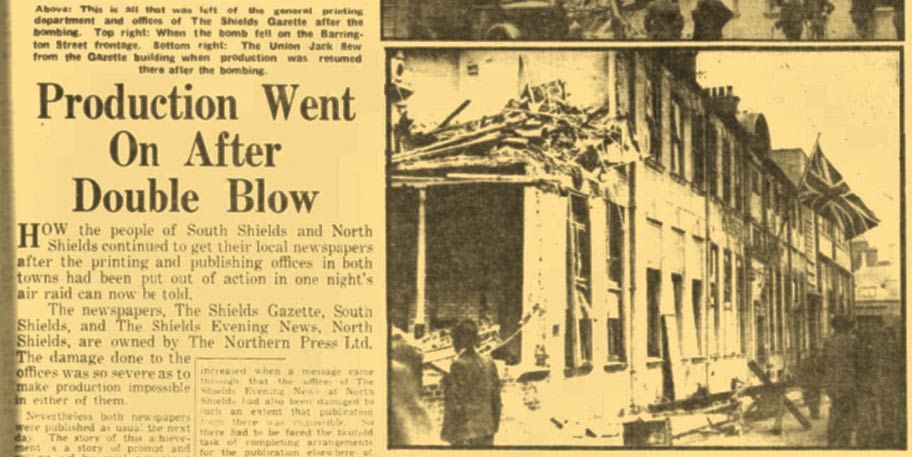 New pages from the Shield's Daily Gazette have been added to the archive in the week of 28 July 2022
South Shields was badly hit by German bombers in October 1941, leaving nearly 70 people dead.
The premises of the Shields Daily Gazette were hit, and it was impossible to publish the paper.
But rival newspapers rallied around - and the next day, copies of the paper hit the shelves.
Visit the British Newspaper Archive's website here


You can really get a "feel" for the times – newspapers fill in a lot of the detail about daily life, daily news and events, what people would have been discussing at the dinner table, in a queue in shop, in a pub or coffee shop.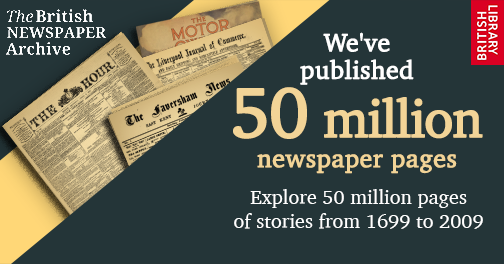 You don't have to leave home to immerse yourself in history through newspapers!
Give a subscription to the British Newspaper Archive here


Letters and editorials fill in some of the views and feelings that people held at the time. Adverts give you an idea of what was selling and for how much, of new products coming on to the shelves, new fashions and hobbies etc.
Plus of course if you want to find out more about your family history and the times people lived in, newspapers give you lots of the detail of daily life. It can fill in lots of little details and you could even find pictures of previous generations that have appeared in the paper!

Whatever subject you want to find out about there will be information on it in a newspaper somewhere. The British Newspaper Archive has over 10 million pages from UK and Ireland's newspapers from 1710 to 1955. And of course, once you start to wonder about something concerning daily life and what was happening, you'll wonder through history some more.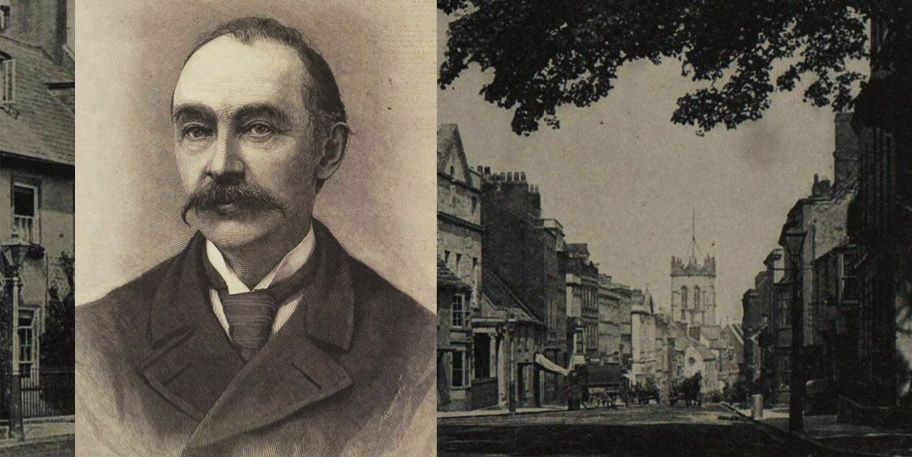 In 1886 Dorset literary celebrity Thomas Hardy was interviewed at his new home,
just outside of Dorchester. This interview gives us an incredible insight into the daily routine
and views of the Tess of the d'Ubervilles novelist from a contemporary perspective.
So what can you search for with The British Newspaper Archive?
News articles – national events, issues of local and regional importance. Peep into daily life in British history!
Family notices – your family's birth, marriage and death notices, and announcements about engagements, anniversaries, birthdays and congratulations. Letters to the editor written by readers including debates, worries and hopes
Obituaries on the lives of notable people
Advertisements – the classifieds, shipping notices, appointments
Illustrations – photos, engravings, graphics, maps and editorial cartoons.
Since it's online, researchers from all over the world can subscribe and use the archives – and there's a gift subscription available too! Results of what you're searching for will appear in a moment. I put in "school life in Sussex" to see what would appear as a trial run, and I was amazed at what appeared. It's a great way to escape from the 21st century back into times past…


There's more to explore every week with the British Newspaper Archive...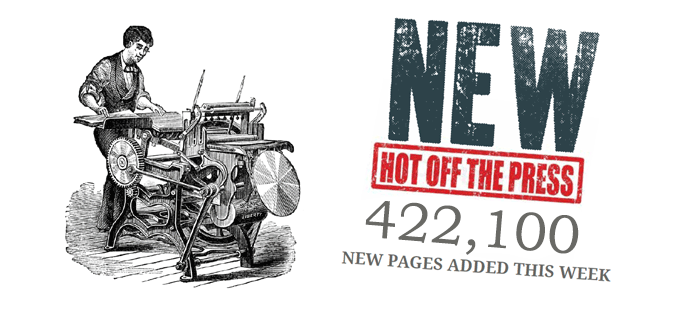 An incredible 442,100 pages were added to the British Newspaper Archive in the week of 5 August 2022!
Give a subscription to enable your loved one to get stuck into discovering more about the past!


Who's behind The British Newspaper Archive?
It's a partnership between the British Library and findmypast, and it's aim is to digitise up to 40 million newspaper pages from the vast collection at the British Library over 10 years. The Library's collection is just incredible: it has newspapers from 1603 (when King James I or James VI came to the throne) to the present day from Britain and further afield. There are over 600,000 bound volumes of papers and over 300,000 reels of microfilm. Just imagine being able to access history and times past from the comfort of your home whilst enjoying a hot brew!